MICHAELA ŠPAČKOVÁ
Michaela performs as a soloist, chamber, and orchestra musician with renowned orchestras and ensembles around the world. She is undoubtedly an outstanding artist of the young Czech generation.
She has received many awards at the prestigious competitions including at the "ARD Musikwettbewerb," "Prague Spring Competition," "Markneukirchen Wettbewerb," "C.M.von Weber Competition," and the Muri Competition among others.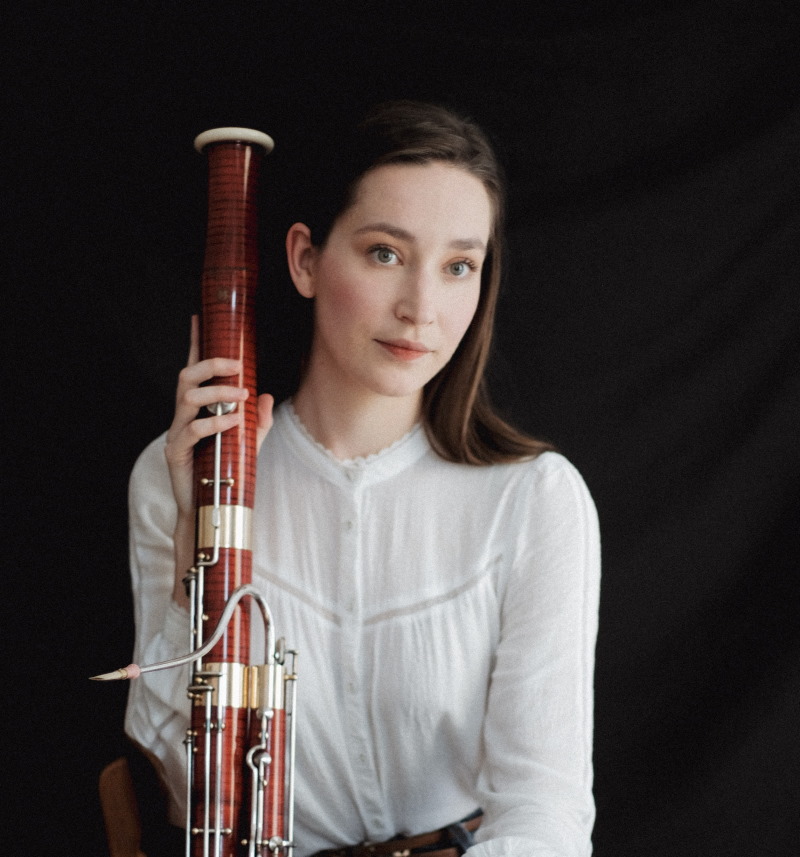 Michaela made her solo orchestral debut at the age of 17 with the PKF – Prague Philharmonia. Since then, she has appeared as soloist with several other leading European orchestras, including the Czech Philharmonic, ORF Wien – Vienna Radio Symphony Orchestra, Münchener Kammerorchester, FOK – Prague Symphony Orchestra, the Brno Philharmonic and others.
With great enthusiasm, she presents the bassoon not as an "old grouch hidden deep in the orchestra," but as an astonishing melodic instrument well deserving of solo performances. Michaela is eager to constantly broaden her artistry and sources of inspiration, her curiousity for new ways of music allows her to be actively involved in numerous innovative projects. Her passion about jazz and modal improvisation makes her a very versatile musician.
As an orchestra musician she collaborated with the major conductors such as Semyon Bychkov, Francois Xavier Roth, Sir Simon Rattle, Lahav Shani, Jiří Bělohlávek, Jakub Hrůša, Valeri Gergiev, Vladimir Jurowski, Manfred Honeck, etc. With prominent orchestras such as Czech Philharmonic, Gürzenich Orchester Köln, Ensemble Intercontemporain, PKF- Prague Philharmonia, Ensemble Resonanz, Radek Baborák Ensemble, Malaysian Philharmonic Orchestra, Czech Sinfonietta, Kremerata Baltica and others.
In addition to her solo and orchestral performances, Michaela intensely pursues chamber music opportunities. She collaborates with pianists Lukáš Klánský and Betty Lee and is a founding member of the bassoon duo, Duo Esperanza, the bassoon quartet Fagotiky and a trio with piano and clarinet – Trio Eoile.
Michaela started studying bassoon at the age of 12 under the mentorship of Lukáš Kořínek. She continued her studies at the Prague Conservatory in the class of Tomáš Františ and Ondřej Roskovec and simultaneously began her studies in Berlin at the Hochschule für Musik "Hanns Eisler" under the guidance of Prof. Volker Tessmann, where she completed her bachelor's degree and is currently pursuing her master's degree. While in Berlin, she participated in the Erasmus Program, an exchange that allowed her to study at the Conservatoire national supérieur de musique et de danse Paris with Prof. Laurent Lefevre.
Michaela is a recipient of the Deutschlandstipendium and the Stipendium of the Ministry of Culture. She has also recieved the "Young Musician of the Year" award and she was the focus of a documentary shot about her and in a shot of educational document series for children.